Good Talking People, Teaneck, NJ and Ridgewood, NJ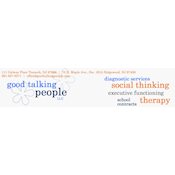 Good Talking People treats Toddlers through Adults year 'round!
Good Talking People LLC is a comprehensive private practice in Speech Language Pathology and related services.
We provide speech language therapy, literacy development, executive functioning intervention and social skills development, utilizing the most up to date therapy approaches and educational best practices. Our dynamic staff continuously strives to provide creative comprehensive services to the population we serve. Our service models deliver the latest technology available as appropriate. We are committed to staying up to date with the newest developments, techniques and technology for the remediation and improvement of communication disorders and differences for all our populations.
We provide speech language services to children and adults of all ages with various delays or disorders including: Apraxia / Aphasia / Auditory Processing Disorders/ Developmental Delays / Phonological Impairments / Fluency Disorders / Cognitive Delays / Articulation Disorders / Receptive and Expressive Language Delays & Disorders/ Cerebral Palsy/ Autism /Asperger's Syndrome / Oral Motor Difficulties / Augmentative Communication / Voice Disorders / Written Language Disorders / Social Learning Challenges / Language Processing Disorders / Hearing Impaired. Conveniently located in Teaneck, NJ, Good Talking People offers diagnostic services, therapy services, summer programs and so much more.