New Jersey State Museum - Field Trips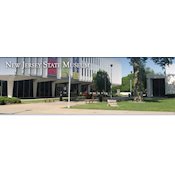 Science, History, Art Field Trips at the New Jersey State Museum
Visit the New Jersey State Museum for the story of New Jersey and beyond! The Museum is home to science and history exhibits that explore the pre-historic story of NJ inhabitants and fauna, including the Lenape, colonial period, and up through modern times. The fine art gallery examines the history and development of American art. Visit our Paleo Lab for an up close look at the latest fossil finds and to see how they are prepared for study and exhibition. Enjoy an out-of-this-world experience in our state-of-the-art, 140-seat Planetarium offering sky and laser shows. We offer inquiry-based, hands-on STEAM programs and live theater programs that entertain and educate. Programs meet New Jersey curriculum standards and are NGSS aligned.
Cost Options: Admission is free. Learning labs, Planetarium and Thursday Theater has a cost per program!
Approximate Length of Visit: Flexible - spend one hour or more.
Class Subject Supported: Science, History, Art
Scout Badge Program: Yes
Home School Program: Yes
Special Needs Programs: Call for Specifics
Read our latest "New Jersey State Museum Field Trip Planning Guide". Full of details - a great way to plan for any class trip!
Call for Reservations at 609-292-6347 or email us at New Jersey State Musuem