Sunshine Face Productions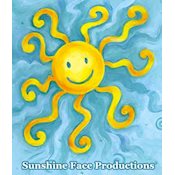 Sunshine Face Productions
Specializing in: Theatre & Video Productions, Performing Arts Training, Artist Development, Event Videography, & Party Entertainment!
PERFORMING ARTS EDUCATION:
SFP's Arts Education Division is called The Menconi Perfomance Studio: Where you learn how to become a self-sufficient performer. We also offer Artistic Development, Film Acting for kids & teens, Children Musical Theatre, and Cabaret Performance (Curtain Call Kids).
Sunshine Face Productions offers professional private/group training, from singing to acting, and it's designed to strengthen as well as challenge children-adults in a non-judgmental-fun-family oriented environment.
We strive to instill fun, hard work, discipline, friendship, self worth, and confidence for life in everyone of our students!
Although nothing is guaranteed in the arts, for our more serious minded students who want to pursue a career in the arts, we strive to give our students all the tools they need: healthy singing - acting - dance technique, experience, & "Industry Standard" materials. We make them ready to fully take on their chosen craft & obtain the skill set they need to eventually become successful.
EVENTS AND PARTIES:
Sunshine Face Productions offer party and entertainment packages: costume characters, balloon animals, face painting, party helpers, PA/sound system, and more!. We also offer services in videography and photography to capture all your special moments.
THEATRE PRODUCTIONS:
We are dedicated to providing quality theatre productions that inspire & entertain all ages!
MULTIMEDIA SERVICES:
We professionally film/edit any event or creative project including performances, parties, movies, music videos, voice over demo reels, & on-camera acting demo reels etc! We also create commercials.
Give us a call today at 201-474-5575.