Les Enfants Preschool and Summer Camp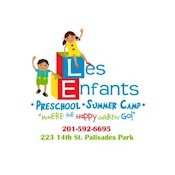 Pre-School
Our Pre-K 4, Pre-K 3 and Pre-K Prep programs are designed to introduce our preschoolers to the excitement and enjoyment of learning. We utilize the research-based "Creative Curriculum". This child-centered, play-based curriculum is made up of fun-filled learning experiences with classrooms organized into learning centers which encourage creativity, exploration, and problem solving.
What Do We Teach?
Curriculum is the essential tool that maps a child's development and guides the teacher's planning. The fundamental purpose of all teaching is to help children master skills in the areas of social and emotional development, physical development, cognitive development and language development. In order to take an active role in a child's learning, it is our belief that the teacher must incorporate the following "Content Areas", or body of knowledge, into the child's daily classroom experiences:

Literacy – vocabulary and language, phonological awareness, letters, words, print, comprehension, books and other texts;

Mathematics – numbers, patterns and relationships, geometry and special awareness, measurements and data collection, organization and representation;

Science – the physical properties of objects, living things, the earth and the environment;

Social Studies – how people live, work, get along with others and shape or are shaped by their surroundings;

The Arts – dance, music, dramatic play, drawing and painting;

Technology – tools and their basic operations and uses;

Process Skills – observing, exploring, problem solving, and connecting, organizing, communicating and representing information.
How Do We Teach?
We use a wide range of teaching approaches in our curriculum:

1 – We view a rich classroom environment as the primary setting for learning. Teachers provide materials to initiate, then guide learning in content areas in each of the learning centers (blocks, dramatic play, fine motor, art, music and movement, library, discovery, computers and outdoors);

2 – The teacher-directed approach requires explicit teaching and planning. This approach is used in small group and individual instruction as well as in "teachable moments";

3 – The child-initiated approach enables the child to choose the activity and the action. Substantial teacher involvement is required with this approach, depending on the child's development and knowledge of content, in order to intentionally prepare the environment;

4 – Teacher interactions which involve talking with children about their work, asking open-ended questions and generating critical thinking are another approach that is integral to the curriculum;

5 – "Studies" or "Projects" are in-depth investigations which focus on finding answers to questions about a topic of interest to the children. Processing skills and academic content are incorporated into the studies.

Our approach to preschool education uses age-appropriate materials and activities, incorporating the strengths of our children, families and communities to enrich the curriculum.
Summer Camp 2018
The tradition of excellence continues! Les Enfants provides an atmosphere that is as much fun as it is educational! We are open from 7:00 – 6:30 and Beginner, Preschool, and Kindergarten Campers (ages 2 ½ -5) along with Senior campers (ages 6-13) can enroll in half day, full day or extended day programs. Sign-up is on a flexible basis with 3-9 week sessions available for 2, 3 or 5 days a week. Summer fun is enhanced by weekly themes, arts and crafts, and outdoor activities on their spacious playground. Pool fun is available three times a week at the beautiful Palisades Park Swim Club. Children also enjoy weekly special events kicking off the summer with a giant Slip-N-Slide party, followed by concerts with Kidz Musik, gymnastics in the Jolly Trolley, Bubblemania, Dolly the Clown and an end of Summer blast with a giant water slide! Older campers can also enjoy field trips to US Gymnastics, Jenkinson's Aquarium, Dave & Buster's, Liberty Science Center, High Exposure and Rizzo's Wildlife Center. Activities are planned according to ages and are age-appropriate. Afternoon enrichment programs include Kidz Musik, Karate, and Power Kids cooking and exercise. A mature and experienced staff plan and care for each group.
A door security system and state of the art camera-monitored rooms as well as daily photos and reports emailed to parents are among the safety features that help give a little piece of mind to the parents of Les Enfants.
Executive director, Maria Hughes and camp directors, Nancy Festini and Donna Stradl lead this superior camp program. Days filled with fun activities, along with old and new friendships, are all part of a summer of happy memories that your child will create and cherish for a lifetime. Call today for a tour!
Follow us on Facebook! https://www.facebook.com/lesenfantspreschool/