Fire Me Up Studio Field Trips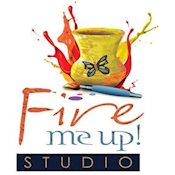 Get Ready to Get Fired Up!
Come as a group or on your own, whether you're a novice or an expert, because our art studio is the perfect place for creative play and fun! We can accommodate groups of 50+, and our open studio throughout the day requires no reservations. Our pottery studio is for individuals, kids, families, groups including school, camp, scouts, sports teams.
We are an all-inclusive art studio, NO STUDIO FEES! The price of items includes all the materials, studio time and firing. Items are priced individually and range from $8 & up. The average item is $20-30 and takes 1-2 hours to complete. Our glazes are non-toxic and food safe.

We are the ideal place for scouts gatherings, school field trips, art classes and more! We also have pottery-to-go or we can even come to you for a special event!
We can host up to 100!
What You Can Do at Fire Me Up!
PAINT YOUR OWN POTTERY
Painting pottery is fun for all! No experience necessary! It's as easy as 1-2-3!
Pick a piece of pottery from our wide selection of mugs, plates, frames, figurines and more.
Design, decorate, doodle or ask us about special techniques!
In 7 days, pieces will be glazed, fired and ready for pick up!
GLASS FUSING
Glass fusing is a fun way to make your own unique jewelry, night lights, platters and more using bits and pieces of glass. Create your own abstract design, or use our templates to help you get started.
HANDBUILDING AND SCULPTING WITH CLAY
Come experience the possibilities! Join us for an introduction to clay and the excitement that comes with it! Children's classes are offered Saturday mornings at 10 a.m. (1 hour class); Adult classes are offered on Sundays at 10:30 am (1.5 hour class). Groups of 4 or more may schedule a private workshop. Classes and workshops include: clay, tools, molds, texture plates, and firing.
NOTE: Clay projects require multiple firings and multiple visits to the studio, so if your project is a gift, please plan accordingly.