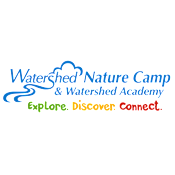 Do you want your kids to play outside all day, enjoying summer, getting dirty, and just being kids?
Do you imagine a summer camp where they spend all day exploring and learning about the outdoor world? If so, look no further than the Watershed Nature Camp in Pennington, NJ! We have provided outdoor, nature-based camp for over 45 years! Our campers enjoy exploring, learning, making friends, and challenging themselves out in nature while building lasting camp memories! The exercise, fresh air, and sunshine that nature campers experience promote healthy bodies and minds. Research shows that contact with nature fosters creativity, increases attention span, and makes kids healthier.
Camp by the numbers:
We offer weekly camps for campers age 5 through 14, plus multi-week Counselor-In-Training sessions for ages 15-16. This summer's camp runs June 29 - August 21 (please note the week of June 29th is a 4-day week); camp days are 9am-4pm (except CIT) and we offer extended care from 8am-5:30pm.

We offer Early Bird, Multi-week, and Sibling discounts. 5% off Multi-Week, 5% off Watershed Member, 1 week early access for Watershed Members. A week at Watershed Nature Camp may be just what you and your child are looking for!
Contact information: www.thewatershed.org/camp to register and learn more.
Call: 609-737-3735
Email: camp@thewatershed.org
Staff:
Our well-qualified and enthusiastic Staff all love nature and working outdoors with children and are certified in First Aid and CPR. We offer a 7:1 camper to staff ratio.
Facilities and campus:
Our 950-acre nature reserve of fields, forests, farm, pond and stream offer unique opportunities for an insightful and enriching summer! The campers will roam with their counselors through the 950-acre reserve, including the forests and meadows, the Stony Brook, and Wargo Pond. They Identify butterflies, and build shelters in the woods while discovering and connecting with nature and having fun. This natural campus is supplemented by our new LEED-Platinum Certified Watershed Center for Environmental Advocacy, Science, and Education.
Watershed Nature Camp age group general descriptions (each week has a different topic; see individual program descriptions):
Age 5: Each week we spend time playing, exploring, going for hikes, building with nature, visiting the stream and doing a few art projects too. Camp day is 9 A.M. to 4 P.M. and includes a short afternoon rest period.
Ages 6-7: Each week we spend time hiking, exploring, building with nature, playing games, journaling, visiting the stream and doing a few art projects, too. Camp day is 9 A.M. to 4 P.M.
Ages 8-9: Each week we spend time hiking, playing games, visiting the stream, building shelters, creating art projects and journaling. Thursday evening cookouts are included. Camp day is 9 A.M. to 4 P.M., except Thursdays 9 A.M. to 8 P.M.
Ages 10-11: Each week we pack our days full of hiking, exploration, games, building shelters, visiting the stream and making natural art. Each week includes a day trip to enhance our weekly topic. Thursday overnights feature evening programming, tent camping and campfire cooking! Camp day is 9 A.M. to 4 P.M. plus Thursday overnights.
Ages 12-14: Each week we include big hikes, habitat and critter investigations, group challenges and creative projects. Each week includes a trip and at least one overnight to enhance our weekly topic. Camp day is 9 A.M. to 4 P.M. except overnights.
Ages 15-16: Counselors-in-Training (CITs) gain valuable experience and training as they assist camp staff with our younger campers. CITs must be responsible, enjoy the outdoors and working with children. CITs will work with a different age group each week. CIT day is 8:30 A.M. to 4:30 P.M. except Thursdays until 8 P.M. or overnight. After one successful year as CIT, participants may be invited back for a second year.
The Watershed Academy for High School Students
The Watershed Academy for High School Students offers sessions designed to promote inquiry and collaboration while investigating the natural environment in the context of real-world issues. Students entering grades 9-12 in September will delve into environmental science and nature to develop scientific skills through hands-on, experiential learning. They will get to explore environmental careers alongside professionals in the field and some will even assist with actual ongoing conservation projects. All sessions run 9 a.m. to 4 p.m.
Environmental Advocacy: July 13-17, 2020
Environmental Field Science: July 20-24, 2020
Stream Science: July 27-31, 2020
Green Architecture: August 3-7, 2020
Climate Change: August 10-14, 2020
Clean Water: August 17-21, 2020