Rizzo's Wildlife World - Field Trip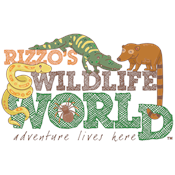 Rizzo's WIldlife World For Your Next School Field Trip!
Consider Rizzo's Wildlife World for school field trips, homeschooling group events, after-school enrichment programming, school assemblies and scout outings, among others. Differentiated instruction using age-appropriate techniques makes our wildlife center the perfect hands-on learning environment for any age and developmental learning level. In addition, we are equipped and happy to create custom programming based on goals that are aligned with programs such as STEM, NextGen and Common Core, as well as state standards of instruction. While the possibilities of programming and learning are endless with a field trip to the zoo, some of our most popular programs to choose from are centered around Wildlife, Recycling, Rainforest or Mammals.
Hands-On Learning
The wildlife program includes an up close and personal hands-on learning experience with combinations of animals from the invertebrate, mammal, reptile and amphibian families. Our recycling program creates a tangible understanding for students to learn what they can do to help preserve our planet, protect its creatures, and maintain a sustainable future. The rainforest program provides a closer look and in-depth understanding of unique rainforest creatures including several species of reptiles and amphibians. Finally, and most adorable, the mammal program is great for groups looking to interact with cute and fuzzy animals that can be both observed and touched while providing a basis for learning about their physical body, creature habits and the lifecycle of each animal.