Apple Montessori School - Mahwah NJ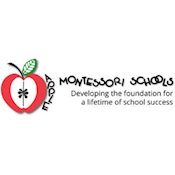 Apple Montessori Schools Mahwah NJ
Apple Montessori Schools offers child-inspired infant, toddler and preschool/kindergarten programs for children ages two through through six years. We offer 15 convenient locations throughout metropolitan New Jersey. Toddler, Preschool/Kindergarten and Day Care.
Our difference
We are devoted to nurturing the whole child – intellectually, socially, emotionally, and beyond. It is the core of all we do. Scientific research confirms that Montessori children have an advantage not only academically, but also in social and emotional development.

Children learn more rapidly from birth to age 6 than any other time in their lives, and our approach makes the most of that critical learning time with proven curriculum and enrichment programs. By recognizing that no two children are the same, our approach cultivates the unique potential of each and every child in a caring, safe, and supportive school environment.
Your child's health and safety are paramount
We work diligently to enforce the procedures outlined by the State of New Jersey's School Safety and Security best practice guidelines. Our protocols include ongoing staff training, regular drills, state-of-the-art fingerprint technology, advanced surveillance systems, and germ sanitizing machines to reduce 99.9% of germs and viruses.
Our team
Maria Montessori believed that teachers are most successful when they embrace the idea that children are innately curious and give them the freedom to explore their own passions at their own pace. Our warm and wonderful staff takes great pride in encouraging the big and small milestones that happen each day for your child.
The Montessori Advantage
Children follow their own passions at their own pace
Multi-age classrooms to encourage peer-to-peer teaching and learning
Hands-on, experiential based learning that brings abstract principles to life
Expert, nurturing teachers professionally trained in the Montessori method
Safe, supportive environment designed to foster self-esteem, creativity, and independence
Our core curriculum includes math, science, technology, history, geography, language arts and foreign language in addition to enrichment programs in art, music, character development and ethics. We also offer FasTracKids, an accelerated gifted program as well as summer camp.
Summer Camp
During July and August, we offer a summer camp program serving students ages 2 through 12 that infuses fun with learning. Most locations feature a specially designed swimming pool and Red Cross certified lifeguards for daily swim lessons. Jam-packed days consist of arts & crafts; nature & science; cooking; music, dance, drama, games, sports, in-house events and field trips. Full and half day programs are available.

Please call us or visit our website to arrange a tour. We look forward to welcoming your family to the Apple Montessori family!