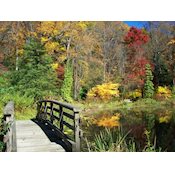 The Leonard J. Buck Garden is one of the premier rock gardens in the eastern United States. Begun in the late 1930's, the garden has reached a breathtaking point of maturity. It consists of a series of alpine and woodland gardens situated in a 33-acre wooded stream valley. Named for Mr. Leonard J. Buck, who developed the garden as part of his estate, it was donated to the Somerset County Park Commission by Mrs. Helen Buck in 1976.
Mr. Buck worked with Mr. Zenon Schreiber, a well-known landscape architect, to develop a naturalistic garden which incorporated several large rock outcroppings found on the property. Their aim was to create a garden that would be ecologically correct and not recognizable as being man-made. Each outcropping is slightly different, creating varying exposures and microclimates which enable different plant association s to thrive.
One of the greatest delights in visiting the Leonard J. Buck Garden is discovering its variety of plants. Tucked among the rocks are rare and exotic rock garden plants. The wooded trails connecting the outcroppings are lined with beautiful wild flowers that have flourished and multiplied through the years. Throughout the gardens grow various ferns. At the base of the valley walls, azaleas and rhododendrons produce a colorful display in May and early June. The Buck Garden's peak bloom is in spring, when favorite wildflowers, diminutive alpines, and delicate azaleas all compete for attention, but there is something interesting in bloom almost every week of the year.