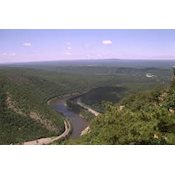 Located within the boundaries of the Delaware Water Gap National Recreation Area, Worthington State Forest contains some of the most rugged terrain in the state. Comprising the southern part of the Kittatinny Ridge, the state forest extends approximately seven miles along the ridge. Among the forest's features is a glacial lake, Sunfish Pond.
At the southern end of the forest is the Dunnfield Creek Natural Area [1,085 acres]. The creek tumbles over a waterfall on its way from Mount Tammany to the Delaware River.
These trails are among the most heavily used in New Jersey, with the summit of Mount Tammany and Sunfish Pond being popular destinations. The Appalachian Trail runs through the center of the forest, and many other trails connect to it, making possible a variety of loop hikes. There are ten marked trails, many of them rugged, ranging from 0.4 to 6.9 miles.
The park includes:
Hunting

Snowmobiling

Cross Country Skiing

Nature Trails
Biking
Hiking / Walking
Fishing
Boating / Canoeing / Kayaking
Viewing Points
Picnicking