Washington Crossing State Park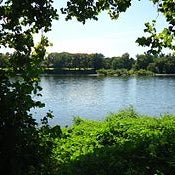 Originally preserved for its historical significance, the park is also well known for its trails and wildlife habitat. A wide variety of migrating birds use the stream and ravine as a resting place and for nesting. Many bird species winter in the park, creating a perfect location for bird observation year round.

The park supports an interesting assortment of plants including mixed hardwoods, red cedar forests, plantings of Eastern white pine, Japanese larch, Norway spruce and red pine. A splendid variety of spring and summer wildflowers can be found throughout the park. Among the most notable species of wildlife are whitetail deer, fox, raccoon, great-horned owl, screech owl, red-tailed hawk, red-shouldered hawk and Eastern bluebird. The park also is popular for picnicking and, in the winter, for cross-country skiing on existing hiking trails.
The park includes:
Cross Country Skiing
Nature Trails
Mountain Biking / Biking
Equestrian Trails
Hiking / Walking
Fishing
Canoeing / Kayaking
Playground
Picnicking