Round Valley Recreational Area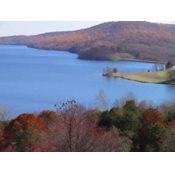 The Round Valley Reservoir was created in the 1960s. It is the deepest body of water in New Jersey at 180 feet. Surrounding the three-mile-long, two-mile-wide reservoir is a 1,288-acre multi-use recreation area, with hiking trails, picnic areas and wilderness campsites [accessible only on foot, by bicycle, or by boat - parking is 3 miles away]. Total acreage is nearly 3,700 including water surface.
There are three marked trails, totaling over 12 miles. The Pine Tree Trail is hiking-only. The others are multi-use, open to hikers, bikers and equestrians. The Pine Tree Trail and Family Hiking/Biking Trail are short loop trails that begin opposite the entrance to the south parking lot. The 8.3-mile Cushetunk Trail [red] nearly encircles the reservoir - it is not a circular trail. The Lower Cushetunk Trail runs close to the shore of the reservoir for over three miles. Click on the Web Map link near the top of this page for a trail map.
The park includes:
Ice Fishing / Fishing
Sledding
Cross Country Skiing
Nature Trails
Mountain Biking / Biking
Equestrian Trails
Hiking / Walking
Swimming / Bathhouse
Viewing Points
Playground
Picnicking