Princeton Battlefield State Park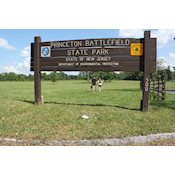 The highest ranking casualty at the Battle of Princeton was General Hugh Mercer, for whom Mercer County was later named. Mercer died from wounds suffered at the battle, when he was clubbed and bayonetted by British soldiers after having his horse shot out from under him. He was carried to the Thomas Clarke House, where he survived for nine days before dying.
A legend later grew that after Mercer was wounded, he lay under an oak tree, refusing to leave the battlefield until victory had been achieved. While the story is not true, the legend stuck, and that tree became known as the "Mercer Oak." Even though the story about Mercer is not true, it is believed that the original oak tree was here in 1777, and therefore was at least a witness to the Battle of Princeton, close to where Mercer was actually wounded.
The "Mercer Oak" survived for over two centuries. Its image became commonly associated with the region, appearing on the official seals of both Princeton Township and Mercer County. The "Mercer Oak" finally collapsed on March 3, 2000. An offspring of the original tree, grown in 1981 from an acorn from the "Mercer Oak," was planted here in 2001.
The park includes:
Hiking / Walking
Viewing Points