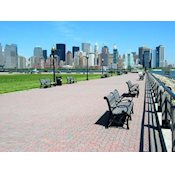 Located within the 1,212-acre park is the historic Central Railroad of New Jersey Terminal, a grand setting for much of New Jersey's transportation history. At its peak, the terminal served 30,000 to 50,000 commuters every day.
Close by is the "Empty Sky" 9/11 Memorial", the official State of New Jersey's Memorial that honors the memory of the 749 people that lived in or had ties to New Jersey that lost their lives at the World Trade Center on September 11, 2001. The brushed stainless steel twin walls are 210 feet long, the width of each side of the World Trade Center Towers. The individuals' names (4 inches tall) are within reach and are engraved deep enough for hand rubbing.
A two-mile promenade, Liberty Walk, links the picnic area, interpretive center and terminal while presenting visitors with sweeping views of the Hudson River and Manhattan. A new outdoor performance area and other improvements mark the northern section of the park, while the western portion is dominated by the state-of-the-art Liberty Science Center, an exciting, interactive science museum.
Ferry service to the Statue of Liberty and Ellis Island is available at the park. The park features a multitude of activities and its visitors' and interpretive centers provide historical background information. There is boating and canoeing on the Hudson River and New York Bay, plus picnic areas, a playground, food concessions, areas for fishing and crabbing and a marina. The park also features trails for hiking, biking, nature walks and fitness and it's the site of spectacular Fourth of July fireworks.
The park includes:
Cross Country Skiing
Nature Trails
Biking
Hiking / Walking
Fishing
Boating / Canoeing / Kayaking
Viewing Points
Playground
Picnicking