Kittatinny Valley State Park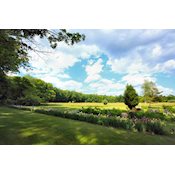 Within the Kittatinny Valley State Park there are four lakes, extensive wetlands, and limestone ridges. The Aeroflex-Andover Airport, operated by the NJ Forest Fire Service, is also within its boundaries but not open to the public.
Scattered throughout are numerous wetlands that are of considerable biological interest. They are open marshes, typically with a few
scattered shrubs [including poison sumac, a relative of poison ivy]. The limestone rock found in the area has created an alkaline soil in which only specially adapted species of plants can grow. Fortunately, many plants have thrived, and these marshes are considered to be places of unusually high natural diversity.
The 20-mile Sussex Branch rail trail passes through the park, in addition to an extensive network of seven blazed trails within the park. The 27-mile Paulinskill Valley rail trail is also administered by the Kittatinny Valley State Park.
The park includes:
Hunting

Ice Fishing / Fishing

Cross Country Skiing

Nature Trails

Mountain Biking / Biking

Equestrian Trails

Hiking / Walking
Boating / Canoeing / Kayaking
Viewing Points
Picnicking