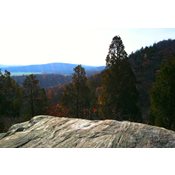 The State Forest rises like an emerald jewel from the surrounding farmland, with overlooks along the ridge providing views over the fertile fields of the Great Valley to the Delaware Water Gap. The abundance of glacial boulders at Jenny Jump is the result of its proximity to the Ice Age terminal moraine located just to the south. This terminal moraine is a great heap of boulders and sands that marks the farthest advance of the Pleistocene glacial ice sheet.
In addition to hiking trails, Jenny Jump State Forest facilities include camping, hunting, boating, fishing and picnicking. "Shelters," which are actually enclosed cabins, with a wood stove, are also available, and there is even an astronomy observatory.
The trails in the state forest provide panoramic views of the surrounding farms and woodlands. They offer a variety of hiking experiences, from eagle-view vistas over wide expanses of countryside to quiet strolls through low-lying areas. The 3.7-mile Mountain Lake Trail loops around an outlying section of the park; it is the only trail open to biking. There are five blazed hiking-only trails. A 1.4-mile loop hike which leads to the two best viewpoints combines the Spring and Summit trails. Longer loop-hikes are also possible. The Blue Trail extends down the length of this relatively narrow park from the Park Office southwest towards Mountain Lake.
This park includes:
Hunting

Ice Fishing / Fishing

Cross Country Skiing

Nature Trails

Mountain Biking

Hiking / Walking

Canoeing / Kayaking

Viewing Points

Picnicking