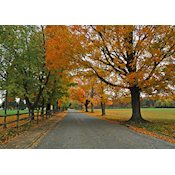 Fort Mott was part of a coastal defense system designed for the Delaware River in the late 1800s. The fortifications seen today at Fort Mott were erected in 1896 in anticipation of the Spanish-American War. Today, visitors can wander through the old batteries following interpretive signs with detailed descriptions of the fort. Just beyond the fortifications is the Delaware River. The shoreline offers good spots for walking and picnicking. The NJ Coastal Heritage Trail Welcome Center accommodates displays defining Fort Mott.
The park offers picnic areas, picnic tables and shelters. For larger groups, there is a Group Picnic Area. It holds a capacity of 100 people, provides shelter, playfields, and playground equipment. It may be reserved for a fee: $80.00 per day all year round. Groups of 20 or more people shall reserve a picnic facilities at least five days in advance. Such group use is not permitted on Holidays except as authorized by the Superintendent. Reservations for picnic areas are handled by the individual park area offices.
An easy Nature Interpretive Trail can be found within the Park that is excellent for beginners. The trail is accessible for persons with disabilities.
The park includes:
Sledding
Cross Country Skiing
Nature Walks
Mountain Biking / Biking
Hiking / Walking
Fishing
Viewing Points
Playground
Picnicking