Double Trouble State Park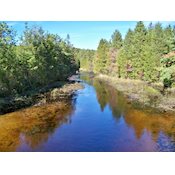 Inside the 7881 acre park holds productive cranberry bogs and a restored village are on what once was a thriving nineteenth century lumbering operation. The restored village contains 14 historic structures, including a sawmill, pickers' cottages, a cranberry sorting and packing house, a general store, and a one-room schoolhouse built in 1890.
There are over five miles of trails at Double Trouble State Park. The Perimeter Loop is 2.25 miles, the Natural Trail is 1.50 miles, the Reservoir-Sawmill Loop is 1.20 miles, and the Clear Brook Path is 0.30 miles long.
The park includes:
Cross Country Skiing
Nature Trails
Mountain Biking
Equestrian Trails
Hiking / Walking
Fishing
Boating / Canoeing / Kayaking