HudsonWay Immersion School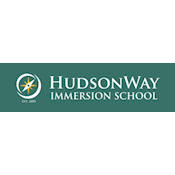 HudsonWay Immersion School is offering a choice of on-site 5 full days per week or remote learning in a safe, nurturing environment. Young children ages 2 ½ - 5 develop early childhood development skills in two languages - English and Mandarin or Spanish! Studies show that children who develop bilingual skills early become better students, have better focus and understanding of other cultures.
HudsonWay Immersion School
HudsonWay Immersion School offers full day and after school programs in Mandarin or Spanish. HudsonWay Immersion School creates an environment that gives students the valuable tools they need to successfully navigate, impact and change the world.

HudsonWay Immersion School's innovative approach to learning fosters children's individual growth, development and creativity, transforming students from pre-K to grade 8 into global citizens ready to Navigate the World®. Immersion education is a model in which students learn subject matter (math, science, social studies, and language arts) using the target language as the vehicle. The long-term benefits include enhanced intellectual development, flexibility in thinking and reasoning, and greater cultural sensitivity.
We currently offer the following programs:
Preschool and Kindergarten through Grade 8
We offer a challenging academic program combined with unique exposure to authentic cultural experiences that provide an education well suited for the 21st century. Educational best practices impact our model, class sizes and configuration, teacher training and support, and teaching strategies in the classroom.
After school Language Immersion for Preschool and Elementary Age Students
After school programs are project-based and hands on while providing the structure for engaging and effective language immersion. Classes held in Mandarin and Spanish.
Enrichment Programs Conducted in English
Enrichment provides an opportunity to explore and develop interests in a variety of areas such as chess, Lego, music, or sports. These classes are open to students not enrolled at HWIS.
Immersion Summer Camp
HWIS summer camps are a great way for students to brush up on language skills while enjoying summer activities. A fun and effective way for children to learn Mandarin or Spanish language skills! This camp is open to students not enrolled at HWIS during the school year.