Team Makers of North Jersey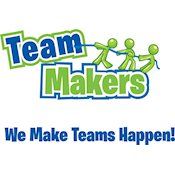 Team Makers after school programs are designed to teach children to think out of the box, solve problems, gain new perspectives, while playing games with other children. Our fun, interesting and active games have children working together to solve problems and finish games while working cooperatively, learning respect for one another, and gaining leadership skills.
Our after school programs are one hour per week for as many weeks as your school requires. Each one hour session has a different theme to keep children engaged and not doing the same activities week in and week out.
All games and activities are created by professional educational curriculum writers and follow best practice progressions. Each session meets many of NJ's educational (CORE) and PE standards including NJ's standards for Anti-Bullying. Children who participate in Team Makers events have shown marked improvement in behaviors toward other children and an increased appreciation for their own abilities and those of their peers.
Our sessions are run by positive and professionally trained facilitators who will lead groups through explanation of Team Makers games. After each game, our facilitator will recap the game that was played to see how each child can improve leadership, cooperation, respect, communication and critical thinking so the next game will be even more fun.
Team Makers ASP's help children learn to think!
We are currently leading programs in over 20 schools and recreation departments and over 31,500 children have enjoyed participating in our events to date. Let us be part of your next season.