Vanderhoof Transportation (E. Vanderhoof & Sons)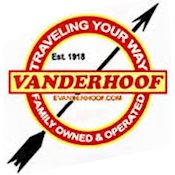 CHARTER BUS COMPANY - TRANSPORTATION FOR TOURS AND GROUP TRIPS
E. Vanderhoof & Sons is an award-winning charter bus company providing tour and transportation services throughout the northeast corridor and across the United States.
Vehicles are N.J.D.M.V. certified, inspected every 6 months and maintain regular maintenance service programs. Drivers are professional and hold a government regulated license and follow Vanderhoof Transportation company safety policies such as daily vehicle inspection, monthly safety meetings, monthly testing, driver awareness programs, passenger care and knowing your vehicle on the road.
Experience the Difference
Family-owned-and-operated since 1918, E. Vanderhoof & Sons is truly one of the best and most reputable Charter Bus companies operating today. Our team handles every detail, from dispatching buses and drivers to destination times, so rest assured that the only thing you need to do is relax and enjoy the trip.