Taubenslag Productions Theater Camp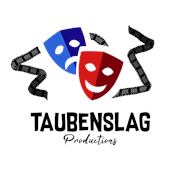 THEATER CAMP WILL CONTINUE THIS SUMMER 2022 @ OUR NEW OUTDOOR LOCATION
Taubenslag Productions Theater Camp
Join us for summer 2022 - our 32nd Season! Taubenslag Productions Theater Camp will run for 8 weeks this summer for kids entering 1st grade up to 16 years old. Whether they want to perform, create sets or props or be a counselor-in-training, we've got something for everyone. Campers can learn about all aspects of musical theater while also building confidence and self-esteem – all levels of experience or no experience at all are welcome! Theater Camp teaches kids how to use performance & theater arts to break out of their shells, use creativity & come alive on stage - giving them the life skills needed to succeed! Our motto is, "When you try you're best, you can do ANYTHING" - by the end of summer, our campers really see this come true!
Rehearsals and Performances continue to take place under our new and colorful Big Top Performance Tent! In summer 2021 we moved our Theater Camp to this fantastic new location - at the Elks Lodge. We are no longer affiliated with Middlesex County College. Same great camp, just a new outdoor location with many more afternoon activities and games plus swimming every day.
Productions
During the first 6 weeks, campers will produce an elaborate musical production EACH WEEK. All of our shows are original productions, many based on famous fairy tales and children's stories. Weeks 7 & 8 are reserved for the annual "Broadway Spectacular". Roles are provided for ALL CAMPERS. That's 7 shows in 8 weeks, giving all kids a chance to shine! Performances are held every Friday morning under our new, outdoor Big Top Performance Tent.
Other Activities
Each Friday afternoon there's even more fun and excitement with our cast party - complete with music, dances and contests. Cast parties are themed, such as "be a rock star", Halloween dance, pajama party, "dress as a superhero", beach bash party; we even have a Theater Camp prom!

Our Theater Camp is more than just theater! Afternoons are filled with tons of fun activities including tons of outdoor fun, swimming every day, scavenger hunts, charades, relay races, sing down, carnival, Mardi Gras, theatrical workshops, dances and much much MORE! During our last week of the summer we divide campers into teams for our famous Color War competition!
Facilities and Staff
This will be our 32nd Theater Camp season! Our awarding winning Taubenslag Productions Theater Camp is supervised by a professional staff with combined experience of over 30 years in education & children's theater so you can be sure your child is cared for with an experienced and dedicated staff. Most of our camp counselors were campers themselves; many have grown up in the program and had so much fun they didn't want to leave! And with our focus on always building self-esteem and confidence, our kids leave each summer feeling empowered! We are proud our camp is a welcoming place where all campers feel accepted and form life-lasting friendships – the majority of our campers return year after year – a testament to our successful programming and professional staff.
Teen Programs
Theater Camp also offers special TEEN programs; Tech, Teen Scenes and Counselor-in-Training. "Tech" is for campers 12 to 14 years old where they function as the stage crew; painting scenery, organizing props & costumes. During performances, Tech campers function as the stage crew, making sure that sets, scenery, props and costumes are in place. "Teen Scenes" is for 8th, 9th & 10th graders where they have the opportunity to learn more advanced theater and acting techniques and prepare a special teen production consisting of monologues, scenes, songs or a complete drama, comedy or musical that features all teens who want to participate. Teen Scenes is performed in Sessions 1 & 2.

Our Counselors-in-Training (CIT) program is also very popular with Teens. Our CITs shadow counselors throughout the day and are responsible for a variety of tasks such as directing a song or scene, choreographing a dance number and distributing literature. CIT's are also encouraged to participate in Teen Scenes. CITs admission is by application only – see our website for details.

Theater Camp was honored by the NJ State Senate, General Assembly and Middlesex County Freeholders for artistic excellence and our 25+ years of serving kids in Middlesex County.

Taubenslag Productions Theater Camp will give your kids a summer they'll never forget – Register them TODAY!
Pricing, Dates and Timing
Taubenslag Productions' Theater Camp is one of the most fun and affordable Theater Camps in all of New Jersey. Our program runs for 8 weeks each summer. Daily snacks are included in the pricing. Choose full-day, full summer for the best pricing. Or you can also choose by Session and add-on weeks.
All 8 weeks, June 27-August 19 Full Day, 8:30-5:00 pm - $2,300 ($200 savings over Session pricing) Half Day, 8:30-1:00 pm - $1,300 ($50 savings)
Session 1: 3 weeks, June 27-July 15
Full Day, 8:30-5:00 pm - $900 Half Day, 8:30-1:00 pm - $500
Session 2: 3 weeks, July 18-August 5
Full Day, 8:30-5:00 pm - $900 Half Day, 8:30-1:00 pm - $500
Session 3: 2 weeks, August 8-August 19
Full Day, 8:30-5:00 pm - $700 Half Day, 8:30-1:00 pm - $350
Add-on weeks are available. Sibling discounts are available.
We have received hundreds of heart-warming thank you letters from satisfied parents & campers - check out our website to read some of their success stories. And don't forget to "Like Us" on Facebook at: www.facebook.com/taubenslagproductions.com.
Registration is Easy
REGISTRATION information will be posted on our website by March 2022. Health forms and your child's health and immunization records will be needed. For information call Taubenslag Productions at (732) 422-7071
or visit our website.