Tuckerton Seaport & Baymen's Museum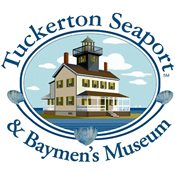 Explore our 40 acre site, including an open air maritime museum, live animals, traditional arts demonstrators, and so much more! Choose a themed tour such as our Seaport Sampler or let us help you to create a tour to meet your group's specific needs. Hands-on add-ons include seining, flattie painting and toy boat building.

Tours and programs are designed for learners of all ages and abilities, and correspond to the NJCCCS. All are interdisciplinary and interactive with numerous hands-on opportunities.
Voices of the Barnegat Bay Outreach:
Experience the Jersey Shore without leaving your school! We offer intimate, effective programs with the flexibility to accommodate a single class for a day of topic immersion or multiple classes rotating through a series of hands-on stations. This is a high quality field trip experience at your facility.

Jersey Traditions: Bring New Jersey's traditional arts alive in your classroom with a NJ artist or master craftsperson. Students will learn about Barnegat Bay arts and create their own "instant heirloom," choosing from shorebird "flattie" style decoy, South Jersey berry basket, oarlock bookend, quilt square or school quilt.

SJCA bus scholarships may be available. Call for details.