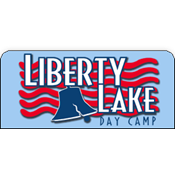 LIBERTY LAKE DAY CAMP
THE BEST SUMMER, EVERY SUMMER! - for children ages 4-15, with bus transportation from Mercer County down to Camden County!
Liberty Lake is the magical summer home for hundreds of children ages 4 to 15 (and staff ages 16+) to expand their talents, make new friends, and develop the life skills needed to be successful in the 21st century. From the Pre-School Turtles Program, up through the dynamic Teen Leadership Program, Liberty Lake is a magical community of love and friendship, that children return to year after year- Many as counselors! We provide children the opportunity to have the greatest summer experience imaginable - This is how we do it:
Our Youth Development "Star Points"
Liberty Lake Day Camp's approach to the Camp experience is anchored by our Star Points of Youth Development. The Star Points reflect our core values and outline the skills, competencies and knowledge that campers learn each and every day. Whether at athletics, arts or adventure- Our focus is on teaching these important life skills.
Our Star Points:
Independence
Integrity
Teamwork
Aspiration
Friendship
Freedom of Choice Elective Program
Our innovative, creative and diverse Freedom of Choice Elective Program distinguishes us from any other Camp Program. Campers choose from over 60 elective activities, enabling them to customize and enjoy their weekly schedules by participating in activities that they have a passion for learning and enjoying.
60 Acres of Natural Beauty
Liberty Lake's campus is an oasis of beauty. The sparkling 7-acre Liberty Lake is surrounded by 60 wonderfully shaded acres, with state-of-the-art outdoor facilities for children to enjoy. This gorgeous setting helps create a truly "Extraordinary World" for Liberty Lakers young and old, whenever they step foot onto the campus.
High Ropes Adventure Course, including Lake Traversing Zipline
Two 80-Foot Pools, with 50 Ft. Double Barrel Pool Slides
Outdoor Laser Tag Course
Lake for Boating, Fishing, Swimming & Water Trampoline
Lakeside Amphitheater
18 Hole State-of-the-Art Miniature Golf Course
Skateboard Park
Athletic Fields and Courts for every sport
Fine Arts Village
"Turtle Town" Pre-School Play Village
Four Playgrounds
And so much more!
Location, Location, Location!!!
Liberty Lake is located just minutes away from Route 295 (exit 52A), Route 130 (Florence-Columbus Rd), Route 206 (Columbus Market) and Route 537. Convenient and accessible from most everywhere, Liberty Lake families hail from Burlington, Mercer, Camden, Monmouth, Ocean and Gloucester counties in New Jersey, as well as Bucks and Philadelphia counties in Pennsylvania.
All-Inclusive & Flexible Tuition
■ All-Inclusive Tuition is all encompassing! All equipment, materials, transportation, trips, extended hours (from 7 am to 6 pm), lunch & snacks, as well as a Liberty Lake backpack and T-shirt are included in our base tuition rate!

■ Our 10-Week Camp Season, running from mid-June to mid-August, is flexible and accommodating to the needs of our Camp families. Families can choose to send their children to Liberty Lake for 2 weeks, 10 weeks, or anywhere in between!

■ Discounts are available for siblings, military, early enrollment, parent transportation, early payment and more. Many of our Camp families save hundreds of dollars off of the regular price every summer!

■ And it's all Fully Refundable - We offer a refund/credit policy that is unparalleled in camping! Please click here to read our Refund/Camp Credit Policy.
Dynamic Staff
■ Our Summer Team is highly skilled, motivated and dedicated to providing campers with their Best Summer- Every Summer! Our extensive screening and interview process, as well as our pre-season and in-season staff training ensures that the Liberty Lake Team is well selected, and highly equipped for their job of taking care of your children and teaching them the skills of life.

■ Our Year-Round Leadership Team spends the off-season improving our facility, while advancing our youth development and leadership skills by attending professional development trainings. We continuously strive to enhance our programs and discover the newest and coolest activities for kids to do each summer.
American Camp Association Accredited ~ ACA Leaders
Liberty Lake is proud to be one of the 2,500 camps nationwide that are accredited by the American Camp Association (ACA). The ACA is dedicated to enhancing the summer camp experience nationwide. Their accreditation process evaluates more than 300 specific aspects of camp, including health, safety, programming, staff development & emergency response practices. The ACA's seal of accreditation means that Liberty Lake is amongst the top-tier of summer camps in the United States! Our Directors are active locally and nationally in leading ACA committees, conferences and events throughout the year. Owner/Director, Andy Pritikin is the past President of the American Camp Association, NY/NJ.
Registering for Camp
Liberty Lake Day Camp prides itself in maintaining a limited enrollment and we begin closing out groups in late winter/early spring. If you are truly interested, we encourage you to contact us ASAP to attend an Open House, or schedule a personalized tour to meet us and see our facilities. We are available most days by appointment and have regularly scheduled Open House Days between January and May. Check out our website, call the office or send us an Email- We'd love to tell you more about Liberty Lake!