HealthBarn USA Summer Camp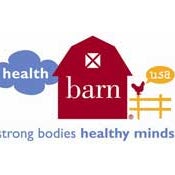 Enjoy a Healthy Summer Camp experience at HealthBarn USA
HealthBarn USA, a leader in healthy-lifestyle education for kids is gearing up for an exciting summer 2020 of fun and learning!
We are offering "in person" camp for a maximum of 24 campers per week from 9am - 3:00 pm from July 6, 2020 through September 4, 2020.
For families who aren't ready for their children to mingle, we are offering virtual LIVE! camp from 9:30am - 11:30 am from July 20, 2020 - August 14. 2020
Now more than ever, is the time to teach children (and the grown-ups who love them) how-to take personal responsibility for their health by making good choices and learning life skills such as cooking, organic gardening, outdoor play and more to build their confidence in facing this uncertain world. This is what our healthy-lifestyle curricula is all about for Summer Camp, Seedlings and all of our programming. It's why we're working with the local health department to insure summer 2020 is safe and fun for kids.
Call us at 201.444.2955 or visit www.HealthBarnUSA.com
---
Seasonal Classes, Summer Camps, After-School programs and Field Trips
Founded by Stacey Antine, MS, RDN, author of Appetite for Life, HealthBarn USA vigorously educates and excites children about the best eating habits and food source. HealthBarn USA empowers children (and the grown-ups who love them!) to grow their own organic food, to cook delicious recipes and to be protectors of the environment -- all served up with a lot of fun! Parents rave that lessons learned here stick with kids beyond the Barn. Food and health experts say that Antine understands kids, nutrition, and the joys of good food, and knows how to bring them together. So, join the fun at HealthBarn USA at the Barn and in schools year-round programs and summer camp for children, ages 3-12. This ultimate garden-to-fork experience is offered in a variety of dynamic programs, check it out!
SUMMER CAMP: Spend the summer with us at the Barn in a wholesome, safe and dynamic learning environment:
* Summer Camp, ages 5-12– VOTED (201) Magazine's Best of Bergen and Editor's pick is held weekly with a variety of themes to choose from such as Be a Chef, Be a Farmer, Be an Adventurist, Be Green and more. Your child will cook his/her own breakfast, lunch and snack from our collection of delicious garden-fresh recipes, learn how-to grow produce and compost, be active through team fun, yoga and nature activities, and be creative through natural arts and crafts and explore the great outdoors during scavenger hunts, too!
PROGRAMS: Can't make it in the summer, enroll in our spring, fall and winter seasonal programs offered weekdays and weekends:
* Seedlings, ages 3-5 (including an extended summer program) transform into expert taste testers by growing, cooking and trying a variety of natural foods.
* Sprouts, ages 5-7 (parent workshops optional) explore their 5 senses through gardening, cooking and hands-on activities to making healthy choices for themselves.
* Young Harvesters, ages 8-12 (parent workshops optional) are serious about organic gardening, cooking and learning about what they eat and how it impacts their health and the planet, too.
* Master Chefs, ages 12+ demonstrate their advanced culinary skills by working in teams to cook our recipes from start-to-finish with an opportunity to add a new healthy twist. Teams compete to win recipe integrity, creativity, teamwork, and taste!
CLASS TRIPS: Schools love the HealthBarn USA experience because its curriculum perfectly compliments science, math and nutrition lessons through an unforgettable hands-on experience.
* School & Scout Field Trips: Students are busy in the organic garden composting and tempting their taste buds with fresh food and herbs, in the making and tasting the Rainbow Swirly Smoothie, and getting smart about produce by playing the seasonal food game with their classmates for stickers! Goodie bags are included.
* School Assemblies: The wildly popular "Try it, You'll Like" and "Super Salad Bar" assemblies are guaranteed to have students requesting healthy foods at school and at home. These WOW programs are also supported by grants available from Life n' Sync 501C3.
WORKSHOPS
We offer Veggie Organic Garden Workshops in spring and fall for grown-ups who want to home garden and Picky Eater Workshops for children and parents (at separate times) to help transform pizza, chicken nuggets and noodles with butter into a vegetable eaters! Please make sure to check HealthBarn USA's calendar of events for current programming.

Rachael Ray said, "I think HealthBarn USA should be everywhere," well it's in Ridgewood, NJ, so don't miss the opportunity to make a difference in the health of your child and family for their future.