HealthBarn USA Field Trips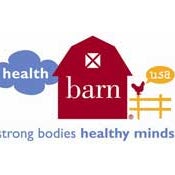 Enjoy a Healthy Experience at HealthBarn USA
Field Trips
With nutrition education a hot topic in schools among administrators, the PTO/PTA/HSA, and parents, our one-of-kind, garden-to-table field trip is a must-do for your students! The field trip curriculum, for students ages 3-15, supports several Core Curriculum Content Standards. The hands-on learning experience can be simply reinforced by teachers in their lesson plans to help students incorporate healthy behaviors into their daily lives at school and at home.
About School Assemblies
Grades Pre-K through 8 can experience "Try it, You'll Like it" and "The Super Salad Bar" nutrition assemblies in schools and at camps, too!
Kids can't get enough of these fun and interactive experiences that leave principals, teachers, parent volunteers and parents at home in awe as kids tempt their taste buds with food that comes from nature! Our hands-on approach is so memorable because students love sampling food. We know that food allergies are a concern and as registered dietitians we partner with your school nurse to make sure all children are safe. All of the food served is free of peanuts and tree nuts, and in most cases are wheat free. We serve high quality natural and organic foods for taste testing, too.
About School Workshops
Ready to bring HealthBarn USA into your classroom for a hands-on learning adventure?
The workshop format for classes of 25 students during Wellness, Science, Health or Environmental Days are age-appropriate and cover a variety of topics. Our interactive learning approach gets students brains and taste buds engaged in 45-60 minute segments. All materials and food, if applicable, are included.
About After School Enrichment
Want to keep the learning fun after school? HealthBarn USA partners with elementary schools to offer students a dynamic, hands-on healthy lifestyle 6- or 8-week program held weekly at your school.
About Our Special Needs Programs
Learning life skills for health! We partner with schools serving children with special needs to design hands-on life skills curricula to meet their students' needs. These interactive programs are customized to include: Culinary skills development through cooking healthy recipes; Gross motor skill development through gardening, yoga and active movement; Practical nutrition knowledge through games and scavenger hunts; Self-esteem development through the encouragement and support of our professional team.

Summer Camp
Join the fun at Summer Camp (ages 4-15) and Summer Seedlings (ages 3-5), located in Ridgewood on beautiful former 10-acre horse farm only 40 minutes from NYC It's the only garden-to-fork camp experience in Northern NJ, where children spend their summer in a wholesome and dynamic learning environment. Founded by Stacey Antine, MS, RDN, author of Appetite for Life, HealthBarn vigorously educates and excites children about the best eating habits and food sources, empowering them to grow their own organic food, cook delicious recipes, and be protectors of the environment all served up with a lot of fun. Parents rave that lessons stick with kids beyond the Barn; food experts say that Antine understands kids, nutrition, and the joys of good food, and knows how to bring them together.