Team Makers of North Jersey - Party Place/Entertainer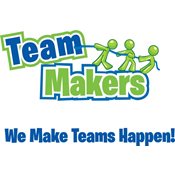 Team Makers Birthday Parties ... We bring the Party to You!
Team Makers is an exciting and interactive birthday party where all participants will engage, have fun, learn about one another and leave with a Loot Locker or Puzzle Pal game. We bring the party to you with no mess and nothing to clean up.
Team Makers Party Games and Activities are fun, interactive and educational
Make your child's next birthday party different from all their others with Team Makers suite of party activities. All games are provided by us and are very hands-on with the children working together to find clues to open the treasure chest which holds their party favors.
In one of the party choices, children must match-up hidden clues, build a magical structure, complete a team relay and work together to discover secrets that require the children to use both their bodies and their minds. An optional Reward Challenge extends the adventure and gives the birthday child an extra code that only they can crack. Other party options include carnival-style games or kidstruction building activities. We often customize games based on your child's party theme or special interests.
Typical schedule: Each party lasts about an hour, can be played indoors or out, and each child goes home with a Loot Locker or Puzzle Pal that allows them to remember the special day.
15 minutes beforehand for set up
Children come into room and sit in circle, entertainer explains how the next 1-- 1 ½ hrs will go (sets expectations for the children)
Children receive quick instructions for the 1st game and are divided into teams in a unique way
1st game is played-- which is actually a team challenge, all children are very involved
Entertainer gently guides the children but never directly gives them instruction. All our activities are child-centered. They determine the game flow as a group. There is not always 1 correct way to accomplish the challenge. Often they are in 2 or more teams, but the winning aspect is not the key, the thrill of the competition and the working together to accomplish the challenge is what energizes and excites the children.
Same as above for games 2, 3 and 4. If the party includes the extra challenge, then we do 6 games.
After all the challenges are met and all the clues are found, the birthday child then opens the treasure chest to hand out the party favors.
Visit us at www.teammakersnj.com Or call: 201-500-8076. Let us make your child's special event a day to truly treasure.