SplashDown Beach Water Park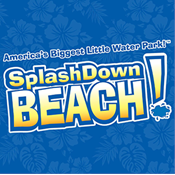 SplashDown Beach located in Fishkill, NY
America's Biggest Little Water Park! Only 90 minutes from NYC.
FEATURING:
Arctic Mammoth:
The Arctic Mammoth, standing nearly six stories tall and more than 600 feet long, will be by far the largest attraction in the waterpark.
Arctic Plunge Racer:
The Arctic Plunge Racer features plenty of twists, turns and curves designed to create maximum acceleration as riders are launched into a head-to-head drag race to the bottom!
Croc Creek Wavy Lazy River:
Unwind and relax in your very own tube down our lazy river. Let the interactive dumping buckets, fountains and geysers cool you off along the way.
Water Whirler:
Water Whirler! Parents and kids alike are sure to love this in-the-water spinning bucket ride.
Splash Works:
An adventure for the kids. Over 50 interactive features, including slides, geysers, dumping buckets, and much more!
Bullet Bowl:
Latest in thrill ride technology! 1 or 2 person tube ride. 4 stories tall, the high speed Bullet Bowl will be sure to please the most daring riders!
Humunga Half-Pipe:
2 person tube ride. New York's only Zero Gravity Half-Pipe! Over 4 stories of adrenaline rush, this is the ride that put SplashDown Beach on the map.
Cowabunga Falls:
3 body slides, each over 300 feet long with tunnels, wild twists and crazy turns… and a splashin' surprise at the end! Thrilling, yet a great family ride.
Pirate's Plunge:
1 or 2 person tube ride. One of the fastest rides in the park. You can ride the Plunge, but you can never tame it!
Pirate's Revenge:
1 or 2 person tube ride. Over 400 feet long of enclosed tunnel creates one great ride experience. Thrilling, yet tame enough for most family members to enjoy.
Monster Wave Pool:
Ride the waves and have fun in the breaking surf. We've got the ocean at our water park. Added bonus: No Sharks!!
Shipwreck Lagoon:
This "kids-only" area will have parents wishing they were little ones again! A themed pirate ship with interactive fountains, geysers, dumping buckets and 4 wet n' wild water slides, just right for the wee ones.
Coconut Pool:
Need some good old-fashioned quality pool time with the kids? This crystal clear 100,000 gallon family pool is just right.
Rock Beach:
Rock Beach is an expanded beach area including Nathan's Famous and the event stage where Justin Bieber performed!