The Westmont Montessori School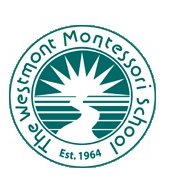 For the past four decades, The Westmont Montessori School has provided each child the foundation to excel academically, to develop respect for self and others, and to value the world in which we live. Self-confidence and a lifelong love of learning characterize the Westmont graduate. The school is proudly accredited by The American Montessori Society (AMI) and the Middle States Commission on Elementary Schools (MSCES).

Programs:

MONTESSORI & Me CLASS: A unique opportunity for our youngest children and their caregiver to bond in play, in song and language. Children 18+ months of age may participate.

TODDLER CLASS: A small group experience in the security of a save, gentle and loving environment. This class serves as an excellent introduction to the Montessori philosophy. Children age 2 by October 1st may participate.

EARLY CHILDHOOD CLASSES: Children continue to grow as they master routines and explore the classic Montessori environment with mixed-age groupings of students working, playing and learning together. Children age 3 by October 1st may participate.

KINDERGARTEN: The culmination of our Montessori program. This full day program uses a mix of advanced and traditional materials to prepare students for the next phase of their journey. Our alumni are welcomed into the area's best elementary schools where the confidence and skills they acquire at Westmont continue to enhance both their academic proficiency and love of learning.

EXTENDED DAY: An enhanced learning environment available before and after class. Your child will enjoy a variety of activities such as music, arts and crafts, playground time and social interaction.

SUMMER CAMP: Enrollment is open to children ages 3- 6 and graduates of Westmont's Toddler Class.

Visit our website for more details about our programs as well as our school's history, mission and philosophy.