Continental Soldiers Park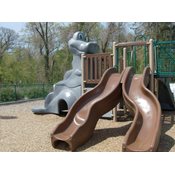 This brand new recreational field and complex includes a football turf stadium, a pavilion with picnic tables, and a skate board park.

The playground is right next to the football stadium and completely fenced in with new equipment. You'll find something for kids of all ages including a dinosaur you have to climb to get up to the top of the main play structure.

There are traditional climbing rings, monkey bars and swings with a unique tent that protects everyone from the sun.

"Make a Day of It" by dining at the Mason Jar restaurant also located on Rt 202/Ramapo Valley Rd and known for their real southern hickory pit BBQ.