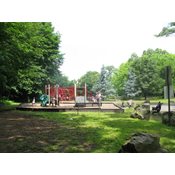 Tamaques Park is the town's largest at 106 acres. The park includes 18 picnic acres, two basketball courts, eight tennis courts, two play areas, a pond, six shuffleboard courts, six playing fields, ice skating, a jogging oval, grills and wooded trails.
Perfect for the mom who wants to do a few walking/jogging laps, Tamaques Park offers a great 0.8 mile loop for walkers runners and bicyclists. Popular on weekends for baseball and soccer games, the younger kids and parents will often flock to the playgrounds in this park. As the weather warms up, Tamaques offers excellent shade to keep it cool. Bathrooms are also available.

Make a Day of It: Visit Westfield's downtown area and stop by the local toy stores, including The Learning Express and Think-a-Dinka. Lots of great restaurants and shopping attract many nearby towns.