East 72nd Street Playground in Central Park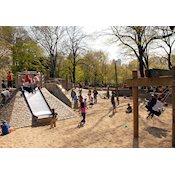 This playground's low concrete walls and numerous steps and seats define the play space and provide a variety of levels and surfaces to climb and explore.

Features:
Play features include bucket swings, a wooden tree house and a granite-faced climbing pyramid with slides and tunnels. A net climber and tire swings are set in a large sand area at the center of the playground.

Water Feature:
A wall-mounted water feature sprays into a sunken area surrounded by steps and round concrete seats.