Manasquan Reservoir County Park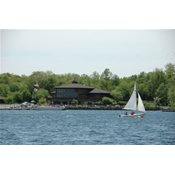 Spend a day fishing, boating, or walking the trail at this beautiful spot in southern Monmouth County. Now the most visited site in the Monmouth County Park System, over 1 million visitors come to the Manasquan Reservoir each year.
Park features:
1204 acres of land and water
fishing
5-mile perimeter trail
1-mile nature trail
playground
ice-skating
kayak and rowboat rentals
The Manasquan Reservoir is a source of water for municipalities and utilities. The Reservoir is also a natural setting for recreational activities and outdoor pursuits. The 770-acre Reservoir is part of a larger 1,204 acre site that include woods and wetlands, a 5-mile perimeter trail, fishing and boating areas, and a Visitor Center. There is also an Environmental Center.
About the Reservoir
The reservoir is an important part of the water supply in Monmouth County. Water from the Manasquan River enters and exits the reservoir through the inlet/outlet tower in the front of the main dam. With a 4 billion gallon water capacity and a maximum depth of 40', the reservoir can supply up to 30 million gallons of water a day.
Manasquan Reservoir Visitor Center
Visitor Center
This Center is the site of all boating activities at the reservoir and features a boat rental area, bait shop, vending machines, restrooms, fireplace and program activity rooms. The bait shop is closed December thru February. The second level observation deck offer spectacular views of the site.
Fishing
The Reservoir is open year round for fishing and is stocked with large and small-mouth bass, hybrid striped bass, tiger muskie, bullhead catfish and panfish species. A State fishing licenses is required for anglers age 16 and over. A license can be purchased at any local fishing supply/bait shop or by visiting the NJ Division of Fish & Wildlife website.
Fishing licenses are NOT available for purchase at the Manasquan Reservoir.
Boating
The boat ramp is open for the season March 1 through November 30. Seasonal and daily boat launch passes are available at the cost of $5 daily or $45 seasonal. All vessels must be launced from the east ramp at the Visitor Center. Boating is a great way to explore this site, take advantage of the fishing opportunities, or simply relax. Boats with electric motors, sailboats, kayaks, and canoes (at least 8' in length) are permitted on the Reservoir. All persons boating on the Manasquan Reservoir shall wear a U.S. Coast Guard approved type I, II, III hybrid inflatable, or V personal flotation device in serviceable conditions. New Jersey State Boating laws and Park System rules and regulations are in effect on the water.


Boat Rentals
At the Visitor Center, park patrons ages 18 and older can rent either rowboats (1-hr $11.45 or 4-hrs $31.78); electric motor powered rowboats (4-hrs $42.06); or kayaks (1-hr single person $13.08 or 1-hr double person $18.69). Prices include tax. Cash or personal checks are gladly accepted however we can not accept credit cards. A $10.00 deposit is required for 1 hour rental; $20.00 deposit required for 4 hour rental. Motor boat rentals begin April 1st - October 31st and kayak rentals Memorial Day weekend - October 31st. (Prices do not include sales tax.)
Operation of an electric motorboat requires a NJ boating safety certificate. For information on and locations of boating safety classes click here.
Boat Tours
Departing from the Environmental Center, boat tours are offered Memorial Day weekend through September on Saturdays and Sundays at 1pm, 2pm, 3pm, and 4pm; and 2pm & 4pm on Wednesdays. Evening boat tours are be offered on the first Friday of each month (June-October). Please call for times for evening boat tours. The 45-minute tour takes visitors around the Reservoir and includes discussion of its history, use as a water source, and wildlife habitat. Look for osprey, great blue herons, bald eagles and more. Visitors are invited to bring binoculars for up-close observation of the abundant wildlife that call the Reservoir home. Tickets can be purchased at the Environmental Center.



Trails
The 5.1 mile gravel Perimeter Trail offers panoramic views of the Reservoir and provides a great trail experience for all users. This trail loops all the way around the reservoir and has a fairly even, well-maintained surface and is designated as a MODERATE trail due to its length. Mileposts are marked on the trail.