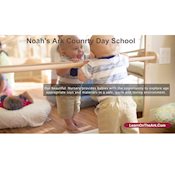 NOAH'S ARK PRESCHOOL
Inspire, Love, Grow..... We pride ourselves in embracing children's natural curiosity, inspiring them to explore the world around them. Children learn by doing. With colorful, loving classrooms full of books, toys, paints, and activities, minds are sure to be engaged and feel happy. Most importantly at Noah's Ark wondering why always ends in fun.
Philosophy
Here at Noah's Ark your child will be cared for by our nurturing and experienced staff who have a true gift with children. We create a partnership with our parents to assure both you and your child's needs are met. Noah's Ark Philosophy is based on three principal goals. These are to help children gain confidence, to impart a strong sense of community and to foster a true love of learning. We provide a warm consistent environment where our children are encouraged to explore, make choices and gain independence. We instill a strong sense of self and a discovery of each child's unique place in the world we live in.
Programs: Infants to Kindergarten
School for Infants and Waddlers
Every moment with an infant is precious and should be cherished as such, which is why here at Noah's Ark we take much pride in making sure that our infants and their parents are surrounded by a warm and nurturing environment. Our families say... "it feels like home!"
School for Toddlers
Welcome to the busy, busy world of the Toddler Group! Each day is action-packed with stimulating, creative, and high-energy activities designed to promote the intellectual, social, and emotional growth of each child.
School for Young Pre
An environment of bright colors and appropriate centers provide optimum stimulation for the Young-Pre growth. Young Preschool children want to touch, taste, smell, hear, and test things for themselves. Our Young-Pre class teachers incorporates into the curriculum four of most important developmental areas for this age group: Social, Emotional, Cognitive and Physical growth.
School for Preschool
Our Preschool Class will begin to experience the joy of self-expression in the areas of music, arts & crafts, movement, story time, and games in our classroom centers. Dramatic play, sensory, outside play, music & movement, blocks and science are a big part of their day.
School for Pre K - Kindergarten
This classroom is designed to welcome the love of learning for both Pre-K and Kindergarten children. Our curriculum is not only challenging and stimulating but is presented in such a way that the children are eager, happy and excited about learning. We pride ourselves in embracing children's natural curiosity, inspiring them to explore and discover the world of learning.
Kids Summer Camp
Full and part time camp programs are sure to be a blast at Noah's Ark Summer Camp. 8 Weeks of fun awaits our campers as they explore different topics and curriculum. Academics are still in play throughout our busy summer to ensure children are ready for September! Exciting , projects, special events and fun in our park like playground keep your child's imagination growing and the summer filled with excitement, enthusiasm and creativity.
Two Locations
618 Central Ave in Westfield, NJ 908-232-0715
572 Mountain Ave in North Plainfield, NJ 908-757-8885