Seven Presidents Oceanfront Park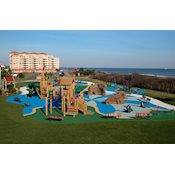 Everything needed to enjoy a day at the beach is readily available during the summer months: snack bar, sheltered eating areas, volleyball area, outdoor showers and changing areas, guarded swimming, designated areas for surfing. Light-weight cartop vessels such as kayaks or canoes may be launched but, boaters can not drive down to the beach and must carry their vessel from the parking lot to the water.


TONY'S PLACE
Tony's Place, named in honor of former Board of Recreation Commissioners Vice-Chairman Dr. Anthony Musella, is a universally accessible playground. It is the second joint venture playground project of the Park System, Challenged Youth Sports (based in Middletown) and Friends of the Parks.


SKATEPLEX
Located at the North end of Seven Presidents Oceanfront Park, the Skateplex features a short paved trail, landscaped open play areas, restrooms, drink vending machines, open shelter with tables, parking and two areas constructed exclusively for skaters. There is a 75'x150' rink for inline skating, hockey and lessons; and a skatepark for both skateboarders and in-line skaters with a bowl and a series of quarter pipes, wedges and fun boxes.
Seven President's skateplex

The skateplex is open year-round, 8am to 1 hour before the posted park closing time and use is subject to weather/safety conditions.

NOTE: An ANSI or SNELL approved helmet must be worn at all times while in the skatepark. Elbow and knee pads are recommended.


Dunes

More than just a clean place for fun in the sun, this park is also a protected ecological habitat. The Park System regularly reinforces the sand dunes by planting erosion-fighting beach grass. These dunes act as a natural barrier against severe storms and serve as a habitat for threatened bird and plant species. As such, certain areas of the beach are sometimes closed and removed from the beach raking schedule to "let natural processes prevail." This is done so that various native species may survive and thrive undisturbed.

History of the Site
Long Branch was placed "on the map" in 1869 when President Grant made the city the nation's "Summer Capital," a tradition followed by Presidents Hayes, Garfield, Arthur, Harrison, McKinley, and Wilson. In the late 1800s Seven Presidents Oceanfront Park was the site of "The Reservation" that Long Branch businessman Nate Salsbury built for his Buffalo Bill Wild West Show. Buffalo Bill Cody, Annie Oakley, and Chief Sitting Bull were among the many performers.