Great Swamp Outdoor Education Center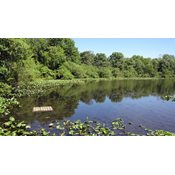 The Great Swamp was created approximately 15,000 years ago, when the melting waters of the Wisconsin Glacier poured into the natural basin known as the Passaic Valley. However, the Great Swamp is not entirely swampland but rather a mixture of marshes, meadows, dry woods and brush-covered swamps. It is the intermingling of these four habitats that gives the Great Swamp its unique character, allowing the swamp to support a wide variety of plant and animal life.
As visitors walk along trails and over boardwalks, they can observe plants varying in size from the tiny duckweed to the towering red oak. A multitude of colors emerge, from the yellow marsh marigold to the blue iris. And some visitors are rewarded with sightings of the wildlife that make the Great Swamp their home. Learn more about this living, breathing botanical and zoological resource with a visit to the Great Swamp Outdoor Education Center. Numerous environmental programs for all ages are also available.
Park Features
Interactive Nature Exhibits
Observation Blind
Pond Observation Deck
Trails
Visitors Center Handicapped Accessible Accommodations
Pets Not Welcome
Restrooms Handicapped Accessible Accommodations

Things To Do
Guided Nature Hikes*
Self-Guided Nature Hikes
Special Events*
Visitors Center Exhibits Handicapped Accessible Accommodations