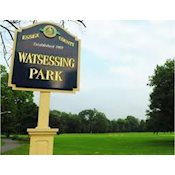 • Three playgrounds.
• Football, softball, and soccer fields.
• Basketball courts.
• Newly restored historic bandstand.
• Senior citizen recreation building.
• Formal entrance on Bloomfield Avenue faces town's municipal plaza.
• Elevated railroad tracks bisect the park in the Bloomfield portion.
• Elevated roadway for the Garden State Parkway runs along the western portion of the park.
• Toney's Brook and Second River.