Spring Lake Day Camp of Ringwood, NJ (North Jersey)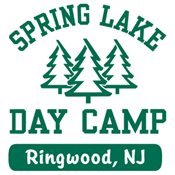 Spring Lake Day Camp of Ringwood, NJ - a Traditional Day Camp
Spring Lake Day Camp offers a traditional full season co-ed day camp for ages 3 to 15 years of age with a mini day option for our youngest campers. ACA-accredited camp catering to families in Bergen, Passaic, Morris, and Essex Counties as well as parts of Hudson County. Full, Half and Mini Day options for children ages 3-15.
Full Day and Mini Day Options
The Full Day option is for campers entering Kindergarten through 10th grade. Full Day camp hours are Monday through Friday, from 9am- 4pm. The Mini Day option is available only for campers entering Nursery or Pre-Kindergarten and is subject to availability, location, and transportation. Mini Day camp hours are Monday through Friday, 9am-1:20pm. Spring Lake Day Camp programs are individually designed to match the age and abilities of our campers from 3 to 15 years old. Our low ratio of 3:1 campers to counselors is what sets SLDC apart in our superior attention, care and guidance.
SLDC has three main "camps" plus a Jr Training and Leadership Training Programs:
Junior Camp (ages 3 through 1st grade, including the Mini-Day program)
Girls Camp (2nd grade – 8th grade)
Boys Camp (2nd grade – 8th grade)
Junior Training Program (entering 9th grade) and Leadership Training Program (entering 10th grade) programs.
30 acre campus with 40,000 sq ft pool complex
Our magnificent 30 acre campus includes a 40,000 square foot heated pool complex, offering 5 pools with ability appropriate depths, 25 meters in length and several water slides. Our private 5 acre spring fed lake is used for boating and fishing with a 500 foot zip line over the length of the lake. Our grounds offer over 35 activities — manicured baseball, football, soccer, lacrosse and sports agility training fields, tennis courts, 4 basketball courts, 2 hockey rinks, 5 Ga-Ga pits, a motorized Go Kart track, climbing towers, several high and low ropes elements and zip lines through the trees and over the lake, a 4 person eurobungy, beach volleyball, indoor dance studio, modern gymnastics pavilion, complete fitness and training center, various visual arts pavilions (arts and crafts, fine arts, jewelry design, western art, ceramics), cooking for kids classrooms, recording studio, computer and robotics center, karate, discovery science, nature, archery, music, drama, sewing and so much more.
Programs
Sports & Athletics: offers an innovative and progressive Sports and Athletics program where every camper feels an incredible sense of accomplishment and satisfaction throughout the summer. Includes:
Archery, Baseball, Basketball, Beach Volleyball, Boating, Climbing Wall, Fitness Center, Flag Football, GaGa, Go-Karts, Golf, Gymnastics, Hockey, Horseback Riding, Kick Ball, Lacrosse, Martial Arts, Newcomb,Soccer, Softball,Speed/Agility/Quickness Training, T-Ball, Tennis, Turf Soccer,Volleyball, Watercrafts & Wiffle Ball
Visual & Performing Arts include a wide variety of age-appropriate, technique-specific specialties such as drawing, painting, ceramics,
jewelry making, fibercrafts, Indian and western folklore art along with general arts and crafts activities.
Arts & Crafts, Ceramics, Cooking, Computers, Fibercrafts, Fine Arts, Jewelry Making, Legos,Robotics, STEM,Trading Post, Videography, Woodworking, Drama, Dance, Music, Puppetry & Drama Production.
Outdoor Adventure:
Eurobungy, Climbing Wall, Zip Lines, Leap of Faith
Low Ropes and High Ropes Courses & Continuous Belay Systems.
Science & Ecology:
Discovery Science, Nature Center, Petting Zoo, Gardening &Fishing.
About Spring Lake Day Camp:
Spring Lake Day Camp is an ACA-accredited camp, was founded in 1989 and has been family owned and operated by the Kessler family since its opening. Mitchell and Michelle Kessler are proud owners of this beautiful 30 acre campus, which is surrounded by the majestic Ramapo Mountains. Spring Lake Day Camp is located on Conklintown Road between Skyline Drive and Ringwood Avenue. Our central location on the border of Bergen and Passaic counties with easy access off I-287, enables SLDC to pick up children from most areas in Bergen, Passaic, Morris, and Essex Counties as well as parts of Hudson County. It is also a quick and direct ride across the George Washington Bridge from many neighborhoods in New York City.