Shoresh Preschool at Temple Ner Tamid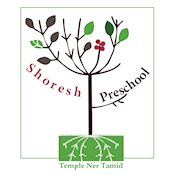 Shoresh Preschool at Temple Ner Tamid
Come and Visit Our School!
You will meet with our Director, Wendy Blum and hear all about our program for two, three, and four year old children. You'll also get a chance to tour our colorful, child-centered facility.
Shoresh Preschool Temple Ner Tamid offers a quality early childhood education program for ages two through Pre-K, offering full day as well as half-day programs at a very affordable price. Their caring and nurturing teachers know the importance of creating an atmosphere of security and trust for your child. Understanding the developmental needs of young children and providing a program that includes time for play, exploration, and hands-on learning experiences, they strive to strengthen each child's social, emotional, cognitive, and physical abilities. Jewish values and holidays underlie our program and teach the children the importance of helping others. The student body is diversified welcoming children of all backgrounds into the program. They also offer a parent/child program for children 15-24 months and a seven week summer camp program. These classes cater to our youngest population and provide age appropriate activities that will transition the children into our two year old program.
The curriculum is play based. It is through play that children strengthen and develop their social emotional skills, which is essential for learning. It is through play that children develop early literacy skills, number concepts and cognitive skills, in a warm and nurturing setting. The curriculum also includes art, music, movement, cooking, science and nature. Children learn best through play and exploration of their environment.