River Edge Farm Riding Camp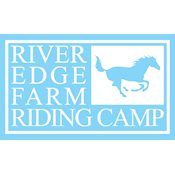 River Edge Riding Camp in Somerset County NJ caters to girls ages 5-16
Our summer horseback riding camp is designed to build confidence, teach riding and horsemanship skills, instill respect for the environment, while encouraging new friendships with other girls who share the same interest.
Daily Schedule
To achieve these goals, our camp's daily schedule is built around riding lessons. These lessons address the physical aspect of riding, teaching the body how to sit, balance and use aids (signals given with legs, seat, hands and voice) to direct and communicate with the horse. As campers acquire riding skills, they come to understand how a horse's mind works and why he responds as he does.
Daily horseback riding is combined with swimming, tennis, arts and crafts, outdoor play, and nature exploration to ensure a well-rounded summer experience.


Campers can choose exciting activities such as cooking classes, ceramics, dance and performing arts, natural science hands on classes, and much more.


Also, they will learn about sustainable farming practices, such as organic gardening, water conservation, organic pest management, solar energy, wetlands, etc.


Healthy and organic lunch and snacks included in the tuition.
River Edge Farm Riding Camp is accredited by the American Camp Association (ACA), meeting over 300 standards for health and safety, site and facilities, program design and activities, risk management and operation management.
Watch our latest River Edge Riding Summer Camp Memories Video:
Find us on Facebook at River Edge Farm Riding Day Camp, and see videos of our camp on our YouTube channel, http://www.youtube.com/user/riveredgefarm