TreEscape Aerial Adventure Park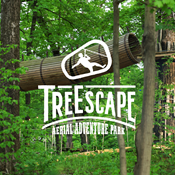 Bring Your Youth Group To TreEscape!
Bring your School Group, Sports Team, Scouts, Summer Camps, or any other gathering to the park, where they can enhance their skills, build confidence, and create lasting memories together!
Aerial Obstacle Course
When was the last time you played in the trees? The Aerial Obstacle Course is a ten-course tree climbing, zip-lining, and rope-swinging adventure beautifully placed amongst the trees of the Vernon Valley. Enjoy conquering all the courses we have to offer, two purples, two yellows, three greens, two blues, and our black course, the most challenging course of them all, Drillers Dare! Each course has something challenging and fun that all ages and skill levels can do. It's an adventure that you can keep coming back to.
Black Creek Flyer:
ZIP YOUR WAY THROUGH TREESCAPE ON THE BLACK CREEK FLYER
Introduced in 2022, the Black Creek Flyer is New Jersey's most thrilling zip line adventure. Set amongst the TreEscape Aerial Adventure Park, the flyer was created with our guest's favorite climbing element in mind, zip lines! The attraction is a dedicated 60-90 minute adventure with over 1200 feet of zip lines across varying terrain, soaring 50 feet above the ground. Fly through TreEscape and experience our newest attraction as part of your next adventure! *The Black Creek Flyer offers guests a fantastic time for a wide range of skill levels and ages 7+
Night Climb
Welcome to the "dark side"! Grab the kids, grab your friends, grab your significant other, or just come by yourself and climb with the other creatures of the night! Our night climbs are all 3-hours long and offer access to not only our 10 original aerial obstacle courses, but also our new zipline course, The Black Creek Flyer, for a memorable night of climbing, zipping, scrambling, and scampering through the trees. If you're looking for a way to make your group activity extra-special, this is it! We offer group discounts and can even plan a special night of climbing beyond our regularly scheduled events. While you're here, if you need a break from "working the night shift," you and your crew can grab a beverage or bite to eat from our snack stand and sit by the fire to recharge before heading out and conquering your next challenge.
KIDS PARK: THE PURPLE COURSES!
(Almost) Everyone can be an adventurer! Kids aged 4-6 years old will enjoy our Kids Park as two of our 10 courses in the Aerial Adventure Park. Young adventurers will learn how to use the harness and carabiner system, experience 20 fun and unique climbing elements, and master the art of conquering exhilarating experiences. A viewing area is conveniently located within the Kids Park for accompanying adults.
The Purple Courses are considered The Kids Park for 4-6 years old and MUST be supervised by an adult.
Groups Served
Boy Scouts & Girl Scouts
Schools
Sports Teams
Summer Camps
Church Groups
and much more!
Ask for pricing for 20 climbers to 50+ climbers.