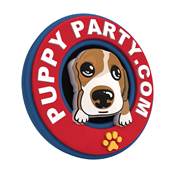 Puppy Parties! Totally Interactive! Puppy Love at First Sight!
We provide happy, absolutely adorable puppies for all kinds of Events. We de-stress with puppies and it works!
Everyone will "oooh" and "aaah" at our very cute and playful puppies joyfully romping around with the laughter and sounds of happy children and adults celebrating at the special event. Anyone can spend some time playing with the puppies, from school events to private birthdays, for up to 5 hours, and we provide clean up and transportation services.

What's included: cuddle events, puppy races, name time with puppies and breeds, toy time, puppy dress-up with photo op, selfies, bonding. Available puppy breeds change daily so check the website for what is possible (puppyparadise.com)
Enough about us! Now let's party together!