GainVille Learning Center of Hohokus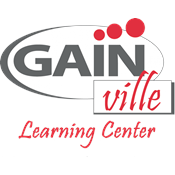 Language School in Bergen County
Language school - previously located in Ridgewood - visit our new home in Northern Bergen county as of July 11, 2022 in Ho-Ho-Kus, NJ! Spanish, Italian, French and Arabic immersion programs for children, youth, adults and organizations. Accredited by the Middle States Association, Commission on Elementary Schools (MSA-CESS), PreK-PS.
Our personalized and immersion based approach to teaching languages insures that no child is left behind. Awaken your child's senses to their family's language and cultural heritage and never look back. Children's brains are like sponges and it is best to start them as early as possible.
Whether you're looking for group language classes or individual instruction, we've got you covered. Language learning is a lifelong journey. Come learn about our year-round language enrichment programs and summer day camps!
Do you speak another language at home but can't get your child to converse in your heritage language? You are not alone. Children learn best when language is learned within a cultural context and while they're busy having fun with other children their age!
Does your child have a hard time separating or perhaps you would like to support your child in learning a new language? Make it a family affair and join us for a Parent & Me PreK class specifically geared for your discerning 2 and 3 olds!
PreK language programs are only the beginning. Give your child the gift of a language during elementary school years and beyond. Language learning does not stop at Middle and High School. Learn about our systematic approach in assessing and placing students in grade and level appropriate classes. Individualized programs are also available for learners who place outside of their age and grade range. Evening group instruction available to adults who are interested in a customized program or would like to join a group class based on their conversational ability and level of language proficiency.
Come learn from a team of instructors whose native tongues originate from diverse cultural backgrounds where the language is spoken. We are open weekdays only during the summer and weekdays and Saturdays throughout the year.
Do you need support for your school's tricky trays and/or community events? Drop us a note. We'd love to support all educational and cultural initiatives that further our vision of educating global citizens one culture at a time!