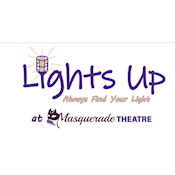 Lights Up at Masquerade Theatre Camp Located in Cherry Hill, NJ. Camp will take place in the Artists in Motion Dance Complex which offers plenty of space and air circulation.
In-Person Theatre Camps 2021 for ages 4 - 18
Apprentice Troupe (ages 8-18) has the opportunity to participate in our Musical Performance and Play Intensive workshop! Troupe members will participate in a dramatic workshop and perform High School Musical, Jr. at the end of their session. Camp runs June 28-August 13, Monday-Friday 9-3. Flexible schedules available upon request.
Super Stars (ages 4-7) introduces young artists the joy of storytelling! Their teachers will work with campers to build their very own play, and students will be responsible for learning lines, songs, and choreography. Themed sessions are offered on a weekly basis, and Super Stars will perform their original show at the end of each week. Camp runs on a weekly basis, July 12-August 6, Monday-Friday 9-12.
Masquerade will be following the below COVID-19 Protocols:
Temperature checks of every staff and camper will be taken upon arrival. Temperatures must be below 100.4 to participate that day.
The following questions will be asked of the parent dropping off their child: + Has your child experienced any COVID-19 symptoms in the past 72 hours? + Has your child traveled to a state on NJ quarantine list? + Has anyone in your household experienced any COVID-19 symptoms in the past 72 hours?
We will not keep or store any medical information about your child.
Masquerade Studio Space will be sanitized before and after each in-person rehearsal.
All staff members and campers must wear a mask during rehearsals.
If a staff member or camper is not feeling well, that person should not attend in-person camp.