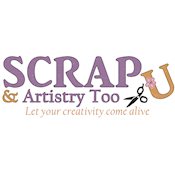 Scrap U & Artistry Too is offering 2 different types of camp this summer! ART AND SEWING CAMP!
Campers can choose Full Day Art Camp from 9AM-3PM or Half Day Beginner Art Camp and Sewing Camp. Art camp is open to campers 3rd grade and up. Sewing Camp is open to campers age 9 & up. Check out all the fun options that await you!!! Check out our all inclusive camp activities this year!
SUMMER ART CAMP includes:
Creating cool and unique art projects with personalized instruction, exploring a variety of contemporary art mediums,

Heading outside twice a week for some creative and very silly fun activities,

Weekly visits from our YOGIE (getting us up and outside for some stretching and movement to music....don't forget your yoga mat),

Weekly art intensives - which can include anything from a guest artisan teaching us their craftsmanship to an entertainer coming to perform for us! Additional activities...you never know who is going to pop up and surprise us each week.

Water Fun during the Summer Heat! Campers will engage in outside fun activities with art & wet sponges, water balloons, water guns, and more.

Theme of the Week - Each week there will be a silly theme for campers to enjoy. Campers are encouraged to incorporate the theme of the week in some way, into their outfit/hair each day that week. You will be able to see your camp theme under the week you registered for - NO LATER THAN JUNE 4th.

Weekly Art Shows - Every Friday afternoon from 2:45 - 3:15 pm, be a part of your kid's first art show! See what your kids have been working on all week.
SEWING CAMP - includes two weeks of fun for ages 9 & Up
No matter what your sewing ability, you can create amazing projects this summer! If you are a beginner, start with our Sewing I Class, then move on to our Sewing II Classes! If you know how to use a sewing machine or have already taken our Sewing I & Sewing II Classes during the year, our Sewing II Summer Program is going to be a NEW ADVENTURE!!! You will be ready for these new challenges! Each week we are making something new.
SNACKS - Snacks will be served! NEW THIS SUMMER! Mini Melts Ice Cream is available at the Studio for a To-Go treat at the end of the Camp day. Mini Melt options are available in a variety of options including some in nut, gluten, egg, dairy, soy, and/or peanut free. $5 per cup available daily, or purchase in advance for the week ($5 discount).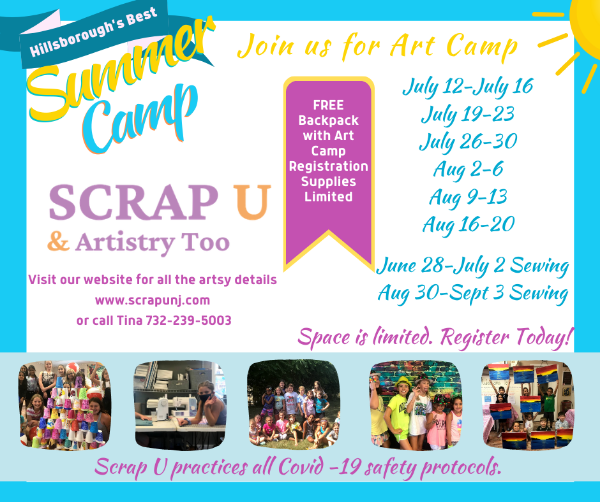 DIY Open Art Studio For Adults, Kids & More!
​DIY Open Art Studio is Open Art for all ages! If you are looking for something to do, come to the studio and create something fun! Pay a drop-in fee and have some artistic fun! Use of studio supplies are included! (Some exceptions may apply). Just choose from Jewelry Making, Canvas Painting, Wreath Making, Scrapbooking, Ceramics $20, Holiday Ornaments, DIY Chalk Couture Sign Making, Cork Art , Mixed Media, Origami, Fairy Gardens, Acrylic Pouring, Dot/Mandala/Pen Doodling, Soap, Bath Bomb, Scrubs, Card Making, Mono Print Pillow, Wine Bottle/Glass Painting OR contact us about creating something unique on your schedule!
About:
Scrap U & Artistry Too is the area's premier destination spot for you to explore your creativity. They are a full service art studio offering all your creative needs under one roof! You will find art classes, workshops and camps offered to all ages from childhood through adulthood. Programs are offered during the day, after school, in the evening and on weekends for all ages.