VSA FUTURE Virtual Academic Camp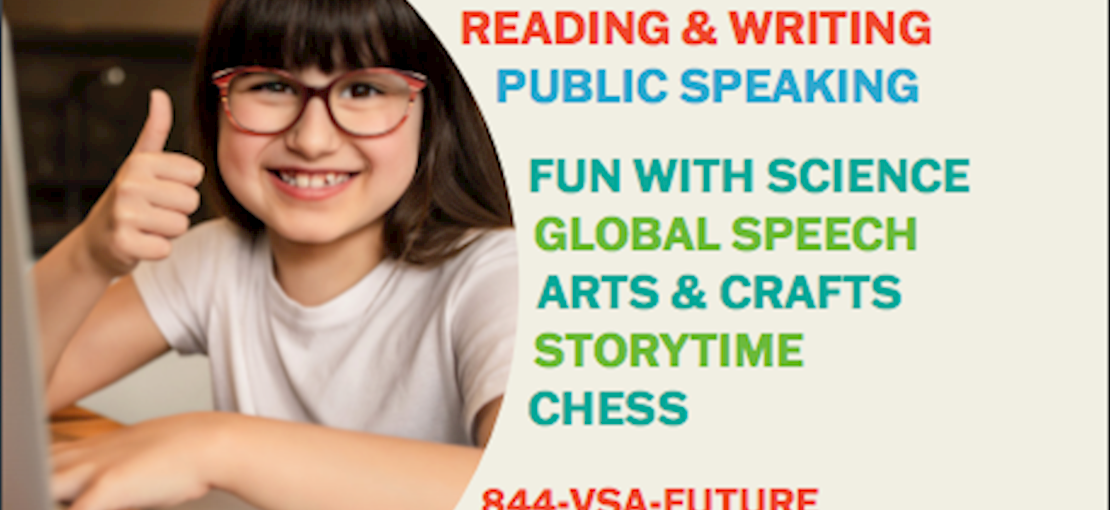 For students in Kindergarten to 8th grade, VSA Future's Virtual Summer Camp offers our best-loved programs in a convenient online format, with everything from intensive academics and Public Speaking to Fun with Science and Chess—plus our Global Speaker Series! Our Virtual Camp crafts a unique mix of creative classes, interactive learning, and intimate class sizes to make ideas come to life.
Camp starts June 28 through August 20, 2021
Enrollment is available on a weekly basis. Camp classes meet Monday through Friday, 9am to 12pm EST. The morning schedule offers campers and families flexibility with their summer planning, as well as balance in their virtual learning schedule. On Monday through Thursday, campers study the ins and outs of language arts, craft thoughtful essays in every genre imaginable, and hone their problem-solving math skills. Campers in Grades 3–8 become bold, incisive speakers in daily Public Speaking classes, while our K–G2 students become confident readers and writers with daily practice. Our curriculum is Common Core–aligned and designed using the best practices of virtual learning: colorful graphics, accessible, engaging lessons, interactive slides, and continuous teacher-student feedback. VSA camp teachers are pros in online teaching and employ a range of practices to keep students learning, participating, and thriving. On Friday, campers explore the mysteries of the world in Fun with Science, broaden their horizons through the Global Speaker Series, and get strategic in Chess and creative in Art. At VSA Future, our students are challenged and supported to become independent thinkers and thoughtful learners, ready to tackle the world.
VSA Virtual Camp is fully online! Students can attend from anywhere, regardless of their location. Our camp classes are hosted on Zoom, and students use a variety of interactive learning software during class and for homework. Our virtual class format is tailored to each grade level and their needs and strengths, whether it's a Kindergarten phonics lesson that gets campers stretching and moving as letter shapes or a fifth grade math class with Math Challenge games, a perennial favorite.