Spring Academy Summer Programs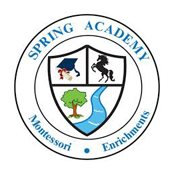 Spring Academy Summer Camp 2021
Two locations!
115 E Grove Street in Westfield, NJ
10 North Road in Warren, NJ
We offer both in-person camp and remote classes for 2021 Summer, for children age 0-16. Students are grouped per their ability and grade levels. Onsite camp combines strong academic classes, arts, and field trips, for an enriching and fun learning experience. Remote classes provide the convenience for students of all ages to take classes taught by our experienced and effective teachers.
In Person programs:
1. Infant/Toddlers Program (age 6 months - 2 years old @ our Warren site only) Safe and fun care with plenty of hands-on exploration for our youngest friends. Part of our year-round program. Half/Full Day options.
Offering both In Person and Remote programs:
1. Montessori Fun & Learn Camp (age 2 – K) Morning Chinese/Spanish Immersion and afternoon English Montessori. Bi-weekly themes, arts and crafts, cooking, outdoor water play, stories, and songs all round out a full day.

2. Day camp for Grades 1 and up – morning targeted English/Math classes to build mastery for the upcoming school year, combined with movement, sports and enrichment programs. Grade 3 and up.

3. Academic classes for students in Grades 3 through 10. Pick one or more programs including leveled English Reading/Writing workshops, Math classes, middle school and high school subject Math classes, SAT Prep, Biology, Chemistry, English and more.
Spring Academy is New Jersey State licensed with locations in Westfield and Warren NJ.
For more information about our Summer 2021 camp, call us today at 908.301.6168 or email Admin@SpringAcademyUS.com