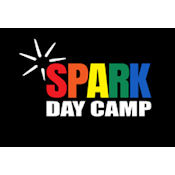 SPARK Day Camp is day camp for children ages 6 through 12 . Located at the Middletown Sports Complex, they are able to offer plenty of fun activities to keep kids engaged and active. Facilities include two full-sized skating/hockey rinks, acres of natural wooded areas, GaGa pits, human foosball, climbing trees with low ropes apparatus, three outdoor pools, an artificial turf field, laser tag, indoor facilities for creative and performing arts, and so much more! Camp is from 9AM until 4PM with before care (8am until 9am) and after care (4pm - 6pm).
Programs offered:
American Red Cross swim classes: Tailored to the needs of each child, so that he or she can progress at a comfortable pace. And although some children may advance more quickly or slowly, our instructors ensure that everyone receives the instruction they need
Athletics: Offering a variety of sports activities on our courts, skatepark, athletic turf field, and two indoor ice skating rinks! Campers will work on skill development as well as having fun playing soccer, basketball, lacrosse, flag football, ice hockey, figure skating, gaga, archery tag, and more.
Arts: Campers have the opportunity to create fine art, jewelry, ceramics, and more. In addition, campers can participate in performing arts including drama, improv, comedy, music, and dance.
Adventure: Their brand new state-of-the-art climbing tower, low ropes course, and climbing trees makes each day an adventure. In addition, we have Camper vs. Wild where campers can learn real-life survival skills in nature.
STEAM: Campers enjoy mad science, model making, digital photography, rocketry, robotics, and coding.
Electives: Each week, campers have the opportunity to choose an elective, from a variety of sports or arts activities.
Special Events: Special events throughout the summer can include theme days, Carnivals, Color War, Hawaiian luaus, campfires, Olympics, and more!
Request a zoom call!