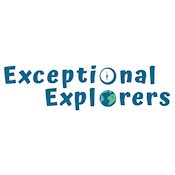 Indoor Playground for ages 6 months to 10 years located in Essex County.
Are your kids explorers? Looking for a special place to play, learn and grow? Check out Exceptional Explorers, a new indoor playground, and first of its kind travel themed play space. Designed by two moms, an occupational therapist and a speech-language pathologist, this play place is designed for children as young as 6 months old through 10 years of age to address essential developmental milestones. Offering interactive play equipment, and culture and geography oriented arts and crafts classes, infants and toddlers can play with high-quality toys of various sizes, colors, and textures in an enclosed space behind an interactive partition. Their older siblings can engage in active, unstructured play on a large indoor play set or tap into their imagination by cooperating and collaborating to design and build structures using large, colorful manipulative toys. The unique travel themed arts and crafts classes, as well as their decor, expose children to other countries and landmarks while promoting motor and speech development.
Open Play
Come in and let your children explore our original concept play space that will engage their curiosity and senses for 1.5 hours. The indoor play facility offers what today's parents of young children are looking for, a welcoming clean space for their kids as well as a minimalist open space for themselves. Parents and caregivers are able to sit back and relax, or finish a work report guilt free, as they watch their children play from the lounge area. It is the perfect space for the cold and rainy days or when looking to hide from the summer heat.
Ask about Open Play packs.
Birthday parties
Exceptional Explorers is always ONE party at a time, so only you and your guests will enjoy all we have to offer and will be able to relax and enjoy your child's birthday party yourself.

​Ask about our themed birthday parties, Staycation Adventure and Exceptional Excursion.
Drop-off Remote Learning Support
Exceptional Explorers understands the added challenges that hybrid and remote learning school models create for families therefore we will offer drop-off remote learning support for school aged children. Their trained staff will assist students with technical difficulties, understanding directions and help focusing on their online learning. They offer half-day and full day options with morning and afternoon sessions. Sessions will be limited up to 8 children.
Special Events and Things To Do for Kids
Exceptional Explorers will offer special events throughout the year, including a Halloween party, New Year's celebration, Valentine's Festival, and various international holiday celebrations. Follow them on social media, including Facebook and Instagram, to learn more about upcoming events and special offers.
COVID-19
Exceptional Explorers is currently following all COVID-19 cleaning procedures to make sure that patrons and staff are safe and feel comfortable at all times. They are performing temperature checks, requiring masks and social distancing, cleaning high-touch surface areas, limiting the number of guests in the space at a time, as well as using HEPA filters and plexiglass in their remote learning classroom.
"We are so proud to open a space in our community that will offer a little bit of normalcy duirng a chaotic time. We hope to continue to serve our neighbors and meet the needs of local families" says Marina Sharfshteyn, one of the founders of Exceptional Explorers.