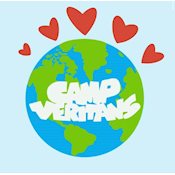 A BEAUTIFUL DAY CAMP NESTLED ON OVER 60 WOODED ACRES IN NORTHERN NEW JERSEY
Camp Veritans is located on a 60+ acre property in Haledon, NJ. Tuition includes daily transportation, daily catered hot lunch, snacks, trips (4th-10th grades) and more. They have many opportunities for campers ages 4-15 to enjoy the outdoors, while participating in a large variety of sports, including a fabulous ropes and challenge course. The comprehensive Red Cross swim program is taught daily every morning with a free swim period every afternoon. In addition campers will experience go-carts, theater, various arts and crafts activities, archery, sports, cooking, nature, ropes/challenge course, "Fun Days" and so much more!
Campers turning 4 by October 15 are eligible to enter into our Yeladim (Pre-K) program. This age appropriate program, led by licensed teachers, is specifically tailored to meet the needs of our youngest campers. Campers entering Kinneret (K-1) thru El Al (2-3) enjoy special activities in camp while Negev (4-5) thru Galil (6-7) campers will have the opportunities to travel out of camp during the summer. Those campers entering 8th through 10th grade are eligible to be a part of our Premier Masada/CIT Trip and Travel program. Spaces are limited call for more information.
Ages: 4 - 15 years (Pre-K - 10th Grade)
ACA Accredited Camp
Visit us at these Camp Fairs:
Bergen Town Center (1/22/22)

Montclair Art Museum (1/30/22)

Women's Club of RIdgewood (2/6/22)