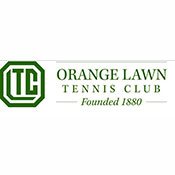 Orange Lawn Tennis Club - a Multi Sports Camp in South Orange, NJ
A day camp for 4-13 year olds like no other! Spending your day at our multi sports camp is a great way to spend the summer! Our secluded and private setting is perfect for enjoying tennis, swim, and a variety of other activities.
At Orange Lawn Tennis Club All Sports Camp, campers have an hour tennis lesson, an hour swim lesson everyday followed by fun scheduled electives like Golf, Karate, Yoga, Arts & Crafts, and many more! Optional weekly field trips available for campers age 6 and over with an additional fee.
Our instructors are all certified professionals and love teaching juniors. Pure beginners, or advanced skilled campers, your child will have the best summer ever at Orange Lawn Tennis Club All Sports Summer Camp!
Camp Options:
4-9 Year Old Camp
WEEKLY SESSION DATES:
June 8- September 4
Fun Day All Sports Camp:
Monday-Friday 9:00am-2:00pm
One snack and lunch included in tuition.
$440/Week
XL Fun Day All Sports Camp
Monday-Friday 9:00am-4:00pm
Two snacks and lunch included in tuition.
$485/Week
10-13 Year Old Camp
WEEKLY SESSION DATES:
June 22- September 4
Fun Day All Sports Camp:
Monday-Friday 9:00am-2:00pm
One snack and lunch included in tuition.
$455/Week
XL Fun Day All Sports Camp
Monday-Friday 9:00am-4:00pm
Two snacks and lunch included in tuition.
$525/Week